Project Archive: Crocus Panel
This project was done for my first stained glass class, at the Art League in Alexandria, Virginia, during the Fall 2002 quarter. The project is an 18"x18" panel showing two blue/purple crocuses on a red background. I expect it to be finished the week of November 10, 2002.
Friday, September 06, 2002: Birthday Present to Self
Sunday, September 15, 2002: Registered for Class
Tuesday, September 24, 2002: First Class Session
Had my first stained glass tonight. The instructor, Jimmy, seems really nice, and also seems to really know his stuff. He says he's been doing stained glass for 15 years and teaching for most of that time. It sounds like it's his living, between repair work and commissions (in that order), teaching, and working in a stained glass supply store one day a week.
Tonight was mostly talk. Which was fine, the extent of what I had known about stained glass can be summed up like this: "It's pretty." We did see some action toward the end of class, in the form of practice
cutting
and
breaking
on window glass. I won the "Golden Band-Aid Award" for drawing the first blood of the quarter, via an invisible glass splinter embedded in the ball of my thumb. Would that I had such success in the cutting itself: it seems that for me, applying enough pressure with the cutter to create a good score in the glass means I've got too much momentum to closely follow the pattern... or going slowly enough to closely follow the pattern means my score is much too weak, causing the glass to break incorrectly. I hope I'll get better; I felt somewhat discouraged by the time class was over.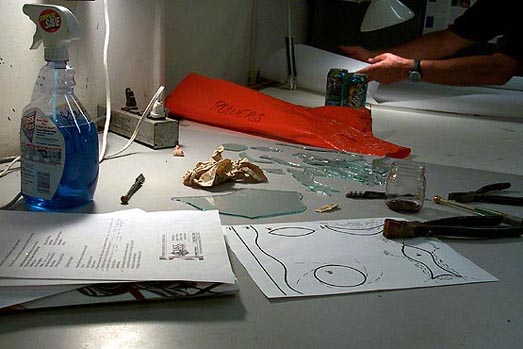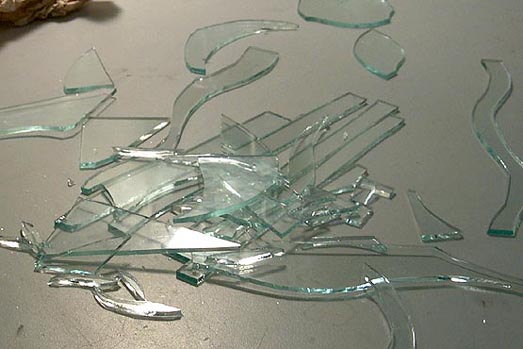 We are to pick out or design patterns in time for next week's class. Says Jimmy: "Most of the stained glass supply stores around here know me as the guy who lets his beginners do whatever they want." I expect I'll be designing my own, which will be an additional challenge because this class does not cover design---but finishing something I designed myself will be twice as sweet as finishing a project out of my book.
There are ten students in my class. Three of us are smokers, a phenomenal percentage in such a small group... perhaps it's simply an overlap in the danger-seeking demographic. While enjoying a getting-to-know-you cigarette outside, I told my new classmates about my high school wood shop class. Most everyone else chose for a project a clock fashioned out of a polished cross-slice of tree trunk. I chose a wall-hutch, with spindles and shelves and drawers. In short, it was way too much. The project never did get finished---I ended up moving away suddenly before the semester was over but I don't think I'd've gotten it done in time anyway---I believe I took an Incomplete for the class. That should have taught me a lesson about what reward an overachiever can expect... but I don't think I learned a thing.
Posted by Michelle at
11:22 PM
|
Comments (0)
Saturday, September 28, 2002: Ouch
Monday, September 30, 2002: God Bless Photoshop
Tuesday, October 01, 2002: Second Class Session
Saturday, October 05, 2002: Picked-Up Pieces
Tuesday, October 08, 2002: Let The Cutting Begin (Upon Something Other Than Myself)
Wednesday, October 09, 2002: Homework
Thursday, October 10, 2002: Homework, the Sequel
Saturday, October 12, 2002: Please Mister Postman
Saturday, October 12, 2002: No, We Can't Still Be Friends
Tuesday, October 15, 2002: Baby, I'm Ready To Go
Wednesday, October 16, 2002: Put Down the Glass Cutter and Step Away from the Workbench
Thursday, October 17, 2002: Slave to the Grind
Monday, October 21, 2002: Math I'd've Been Better Off Not Doing
Tuesday, October 22, 2002: Get the Lead Out
Thursday, October 24, 2002: Eight Steps Forward, One Step Back
Saturday, October 26, 2002: Bitch, Whine, and Moan
Monday, October 28, 2002: Life, the Universe, and Everything
Tuesday, October 29, 2002: Devil in the Details
Friday, November 01, 2002: Solder Soon
Friday, November 01, 2002: On Second Thought
Tuesday, November 05, 2002: Home Stretch
Wednesday, November 06, 2002: Had To Happen Sooner or Later
Thursday, November 07, 2002: Hurry Up and Wait
Tuesday, November 12, 2002: Completion Pending Shouting
Tuesday, November 19, 2002: Patina On, Patina Off
Friday, November 22, 2002: Crust and Crud