I've "laminated" my workboard pattern using the Mylar sheets I bought. This will make it resistant to smudging and running that would otherwise be the result of laying wet-from-the-grinder pieces of glass on top of it during construction. It also made the pattern stiff enough that I could stand it in one of my casement windows to do a size check.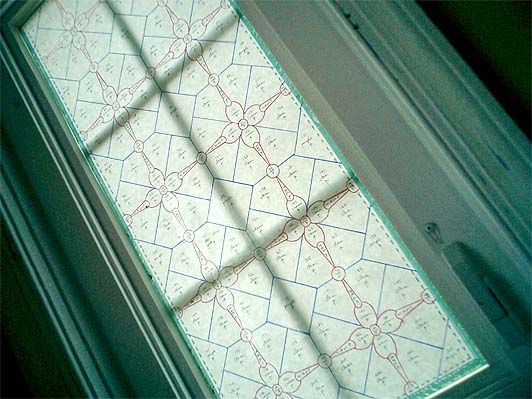 Nifty. Um, although, this photo does nicely illustrate the way the decorative internal grids between the panes of the thermopane windows will show through my stained glass, rather awkwardly I expect. I had seen that coming, and at first thought maybe I'd see about getting an estimate on having the windows replaced or even just the grids removed, as the windows are actually in top condition. Then I figured the cost would probably be ridiculous just for the sake of showing off my stained glass, so I tried to ignore it. But looking at this photo... maybe there's no harm in just getting an estimate.
I bought a pile of 1/8" H round lead came yesterday, ordered a bunch of red 15mm round faceted glass jewels, and the nice folks at Weisser Glass steered me away from purchasing a replacement grinder head to fix my missing-screw-wobble problem---turns out they sell a "Glastar grinder accessory kit" of small pieces that cost me a quarter of what a new head would have cost. Now my grinder head cannot become a high-speed projectile, no matter how much it may desire to do so.
Next up: cutting up pattern pieces. Woo.
Posted by Michelle on November 19, 2006 10:56 AM